Cashbook and General Ledger
Cashbook
[All MoneyWorks products]
Record payments and receipts and automatically track the GST/VAT. Recurring transactions save re-entering repetitive items such as wages. Print cheques or create electronic direct payment files for supported banks.
Full record of payments and receipts.
Automatic tracking of GST/VAT.
Unlimited bank accounts.
Point and click bank reconciliation—no need to re-enter your bank statement.
Cashflow reporting.
Import downloaded bank statements in QIF, OFX, QBO formats
Quick allocation of income and expenses by predefined rules
General Ledger
[All MoneyWorks products]
Maintains details of your accounts for over 7 years. Advanced department capability in MoneyWorks Gold provides independent cost centres. Dual budgets provide full budgeting support right down to department level.
Completely flexible chart of accounts allows MoneyWorks to operate the way your business does.
Full budgeting—with two separate budgets.
Compare actual performance to budgets.
Use the built-in budget editor or copy and paste from an external spreadsheet, or Import/Export budgets [Express and Gold]
No end-of-month or end-of-year rollover—have up to 90 periods open simultaneously.
Complete audit trail.
Account movement graphs with drill-down to actual transactions.
7 character free-form account codes for reporting flexibility
Reports and graphical analysis going back up to 7 years.
Supports alternative code for reporting. Use your own codes in-house to provide the degree of breakdown that you need, but give your accountant reports based on their preferred coding structure.
---
Departmental Accounting

Departmentalised accounts provide powerful subledger capabilities, allowing departmental reporting and budgetting.
E.g. report by branch, salesperson, employee, curriculum department (for schools), project, vehicle (for fleet management) and many others.
5 character free-form department codes in addition to the 7 character account codes for reporting flexibility
Departmental breakdown for reports
Departmental budgets
Departments can even be linked to products and inventory for product sales analysis by salesperson/branch etc.
Cashflow reporting with departments for salesperson commission calculations
---
Order entry

Sales Orders and Quoting
Backorders
Generate Purchase Orders from Sales Orders
Purchase Orders
Backorders
Depositis and pre-payments
Receive orders into inventory before invoice
---
GST/VAT and sales tax tracking
[All MoneyWorks products]
MoneyWorks was designed from the ground up to provide the best possible support for GST/VAT-type taxes, plus it also supports North-American-style sales taxes.
Enter amounts as GST/VAT inclusive or exclusive—MoneyWorks does the rest.
Default GST/VAT is based on general ledger code used, so you never need to worry about charging GST/VAT on wages or other exempt/free items.
Complete handling of GST/VAT on both invoice/accrual [note: not MoneyWorks Cashbook] and payments/cash basis.
GST/VAT handling is based on 'transaction tagging', so you never need worry that a transaction has been omitted or double-counted.
Detailed reporting provides complete audit trail.
Tax code override for individual customers or suppliers (useful for offshore transactions).
Country-specific guides for form filling supplied for New Zealand (GST Return guide), Australia (BAS Guide), Singapore (IRAS), Nepal (VAT Guide), UK (VAT Guide). In other countries simply use the figures provided on the general GST/VAT and/or sales tax reports
---
Localise by document
All MoneyWorks versions are localised or self-localising for GST/VAT systems in New Zealand, Australia, Canada (including support for provincial sales taxes, HST, QST), Nepal, South Africa, Singapore and the UK, and for sales-tax tracking in the US.
If you keep accounts for organisations in more than one country, each document can be set up to track and report appropriately.
---
Receivables and Payables


Accounts Receivable
Generate invoices and statements. Monitor amounts owing and get notfications of overdues. Aged balances and credit hold facilities. Email invoices and statements to customers.
Produce free-form service invoices or quantity/item invoices with descriptions of up to 1000 characters per line item.
Prompt-payment discounts.
Head office billing: Do you ever sell to a branch office, but need to bill the head-office? MoneyWorks handles this common situation easily. Receive one payment from the head office to pay all branch office invoices. Plus the invoice is automatically addressed to the head office, while the delivery address is for the branch.
Subscription billing: Create one invoice and duplicate it multiple times for other customers. Great for billing subscriptions, membership dues, school fees—in fact any time you need to send essentially the same invoice to a number of other selected customers.
Open-item receivables with optional smart auto-allocation of receipts to invoices.
Tax code override for overseas customers.
Aged receivables including retrospective.
Automatic notification of overdue accounts for good debtor control.
On-screen receivables list.
Fast and comprehensive on-screen customer payments history.
Variable credit terms for customers.
Automatic credit hold for delinquent debtors or when credit limit exceeded.
Print invoices and statements (with optional remittance advice) on plain paper or pre-printed stationery.
Email invoices and statements to customers.
Easy write-off, contra and cancellation facilities.
Handles overpayments and uneconomic balances.
Manages partial payments.
Customisable open-item or balance-forward statements.
Cash-only customers as well as credit customers.
Accounts Payable
Automatic notification when creditor invoices overdue.
Full payments history.
Email remittance advices to suppliers.
Record invoices by item or by account
Store original PDF or scan of hardcopy invoice for your records
Open-item payables.
Head-office payments.
Automatic notification when payment on invoices is overdue.
Prompt-payment discounts.
Aged payables reports, including retrospective.
Print cheques and/or remittance advices.
Prepare direct credit schedules for electronic submission to bank (many NZ, Aus banks supported; requires special bank software; extensible file export).
Fast and comprehensive on-screen payments history.
Automatically track expenses against jobs for re-invoicing [MoneyWorks Gold]
Easy write-off, contra and cancellation facilities.
Manages partial payments.
Associate creditors with a payment method to easily select and pay by cheque, direct credit etc.
---
Names Database and Contact Management
[All MoneyWorks products]
Store details of customers and suppliers, including names, addresses, phone numbers, email and web addresses. Graph sales and purchases by customer or range of customers. Determine who has purchased nominated items, and who hasn't. Prepare form letters or emails to nominated customers or suppliers.
Complete database of business contacts.
Alphanumeric customer/supplier codes up to 11 characters in length.
Record banking information.
Tax code override, for unregistered or overseas customers and suppliers.
Colour coding.
Default allocation code speeds recording of service invoices.
Import from Address Book (Mac)
You can re-import to keep in sync with your address book. Existing information will be updated in MoneyWorks.
Address lists & mailing labels.
One-click sorting.
Comprehensive searching facilities.
Send emails to selected customers.
Store URLs for quick access to supplier web sites.
Record details of customer/supplier calls with automatic follow-up reminders.
Name templates for easy setup of new or casual customers.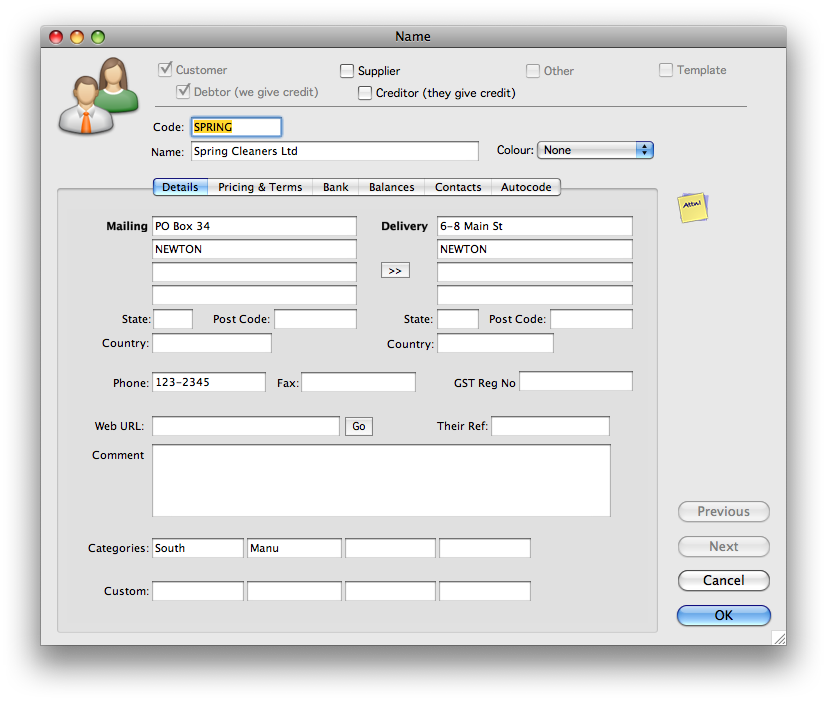 ---
Item pricing and counting
[All MoneyWorks products]
Enter sales and purchases using account coding or item lookup with quantities and discounts. Automatically keep count of the number of items available.
Keep buy and sell prices for items and services.
Have product codes up to 15 characters long.
Categorise products for more insightful analysis of sales.
Keep a running balance of the items you have available.
Sales/purchase analysis by product.
Categorise products (4 category fields, renamable)
4 renamable custom fields
Items and Inventory

Store details of commonly used products or resources. Multiple selling prices and price breaks for sold items. Graph item sales and purchases in both units and dollar value. Find which items aren't selling.
Automatically update stock levels when inventoried items are purchased or sold. Warnings given when preset stock levels are reached. Manufacture finished products from parts. MoneyWorks keeps track of costs and part inventory, with a full audit trail of stock transfers.
Handles non-reducing items and standard costs.
Have product codes up to 15 characters long.
Store usual supplier and their product code for easy re-ordering.
Discount items by product or by customer.
Print individual customer price lists.
Track sales by salesperson.
Specify sell prices as GST/VAT inclusive or exclusive.
Track inventory levels and cost of goods.
Produce purchase orders and packing slips.
On-screen inventory analysis gives complete stock information.
Reorder warnings when stock is low.
Inventory automatically updated when items are bought or sold.
Detailed current inventory reporting.
Stock items can be manufactured from components.
Stock adjustments (create, write-off, revalue, transfer, requisition) with complete audit trail.
Cost of sales calculated automatically.
Sales/purchase analysis by product.
Analyse ordered or committed inventory.
Print product labels and barcodes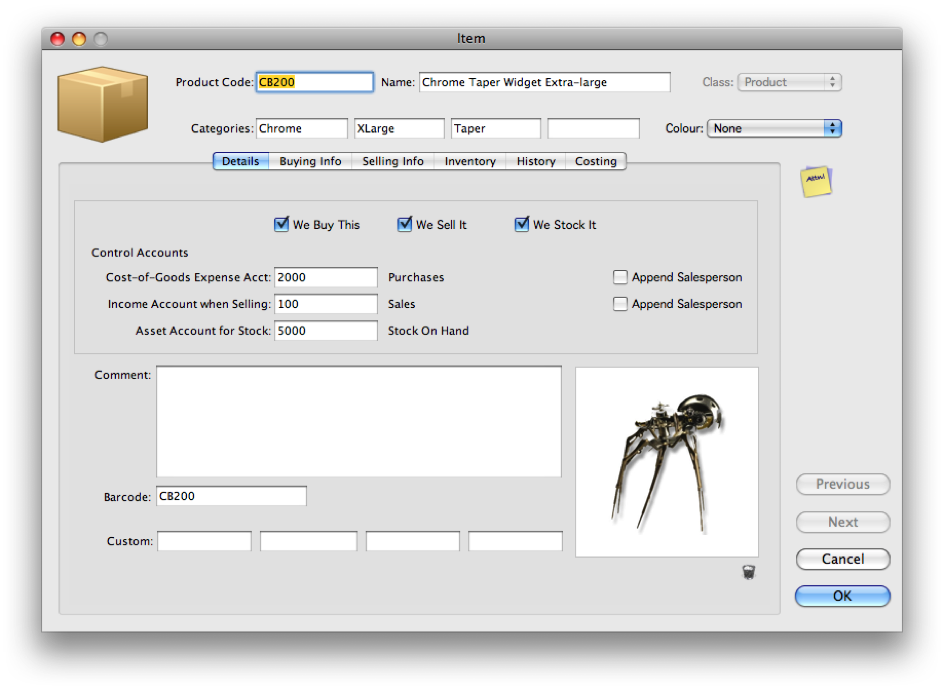 Average inventory cost calculated.
Set price codes for customers
Optional entry by barcode
Order Entry with Backorders: Comprehensive backorder support for sales and purchases.
Multiple product prices: Have up to 6 prices for each product and record the price code for your customers.
Cost-plus pricing
Discount-based pricing
Product images: include in forms and reports
"Selling too cheap" alerts: When entering product prices, MoneyWorks will call-out sell prices that are below a specified markup or margin.
Price Breaks: Up to 5 price breaks automatically selected by the sale quantity.
Quotes: Keep your quotes and estimates separate from your invoices. When a quote is accepted, just click to turn it into a sale or a job (complete with job budgets).
Bill of Materials report for manufactured stock items.
Automatically create purchase orders for out-of-stock products (and email them to your suppliers!).
Stock history report shows historic inventory levels and valuations.
---
Job Costing and Time Billing

Enter time sheets and material used for jobs. Automatically trap job disbursements through the creditors and cashbook. Apply markups to job items and automatically create invoices for the work provided. Use job reports to accurately gauge your profit.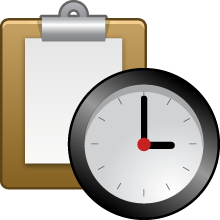 Record time, disbursements and resources used for individual jobs.
Automatically trap disbursements against jobs when recording cash expenses or creditor invoices.
Determine costs and revenue by job, and compare to budget.
Print complete schedule of all cost components of jobs, organised by resource, cost centre, account.
Automatically prepare itemised or summarised invoices from job sheets.
Use cost centres to monitor job activity.
Complete job analysis & reporting.
Job/time sheets can be imported from other applications (Excel, FileMaker Pro, Access).
Automatically calculate work in progress.
Prepare job budgets from quotes.
---
Custom Forms Designer


Create eye-catching invoices and statements, not to mention purchase orders, cheques, mailing labels, and remittance forms. Fit forms to existing stationery or print on plain paper. Full graphics support for company logos, etc.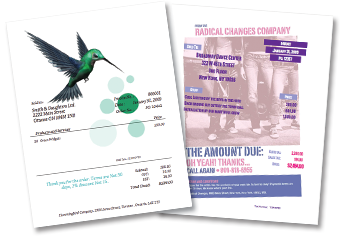 Design your own invoices, statements, receipts, cheques, letters, product labels etc.
Include graphics—lines, rectangles, round-cornered rectangles and pasted/imported graphics.
Smart forms capability—include formulas and conditional visibilty of form elements
Multi-part and multi-page forms.
Easily print mailing labels.
Include barcodes (EAN13/UPC and GS1/Code128) and product images
All forms can be PDFed and emailed; you can even include clickable links to your website in PDFs (full PDF support even on Windows - no additional software required)
Alignment guides help you to create attractive layouts
MoneyWorks comes with dozens of standard forms. With MoneyWorks Express or MoneyWorks Gold you can modify them or create your own. MoneyWorks Cashbook can use forms designed with Express or Gold.
---
Multicurrency

MoneyWorks Gold makes the handling of multiple currencies seamless. Issue and receive invoices/payments in any currency, and MoneyWorks will do the background accounting.
Set up an unlimited number of foreign currency bank accounts
Assign currency to customers and suppliers
Foreign currency cash sales and purchases
Foreign currency invoicing
Foreign currency order entry
Receive payments on invoices in different currency from invoice
Funds transfer between currency bank accounts
Automatic management of realised and unrealised currency gains/losses
Per period currency rates for each currency with transaction override as needed
---
Reporting
All MoneyWorks products come with a large selection of standard reports appropriate to the functionaility of the product.
Custom Report Writer

In addition to a wealth of standard reports, MoneyWorks Gold includes a powerful report writer that allows you to create your own reports.
Create detailed reports to give exactly the information you need in the format you choose. There is no limit to the reporting power of MoneyWorks.
Simple to create GL reports, but with the power to use any data in your database.
Comes with Trial Balance, Income, Cashflow, GST, Cash Projection, Ledger and Balance Sheet, plus profit, trading, inventory, sales, job and budget reports.
Preview on screen, or output to PDF, Email, Excel, Word, Numbers, Clipboard, text or HTML file
Include barcodes and product images.
Generate charts
Sort and consolidate accounts by Accountant's code.
Full expression evaluation including access to internal variables, database lookups and built-in functions.
For advanced reporting, you can use programming language-like control constructs (For loops, If/Else)
Report Signing to secure access to sensitive data—only authorised users will be allowed to use the report.
Custom Sales Analysis


Easy on screen sales analysis and graphs by customer or product, plus in-depth customised cross-tab analysis by almost any criteria—the possibilities are virtually unlimited.
Flexible, user-specifiable analysis reports allow powerful cross-tabulation analysis of transactions in up to three dimensions.

Format cross-tab analysis as column, stacked-column, line or pie charts.

Instant on-screen enquiries of accounts, products, customers and jobs.
Represent customer or product sales history numerically or graphically for any given month or range of months.
Enquiry graphs offer drill-down capability to movements and transaction detail level.
---
Advanced Networking and Access Control


If you need networked access and/or multi user privilege control then you need MoneyWorks Gold or MoneyWorks Datacentre Server.
Fast networking
Easily share your accounts on a Local Area Network.
MoneyWorks Gold employs a host-guest networking model. The master user opens the accounts and multiple guest (client) users can connect.
MoneyWorks networking performance is typically many times faster than competing products. Software performance can make a big difference to staff productivity.
Advanced database allows simultaneous access to the same functions (e.g. Accounts Receivable) by multiple users
Mix Macs and Windows PCs on the same network
Advanced security
Extensive per-user privilege controls.
Keeps track of who entered which transaction.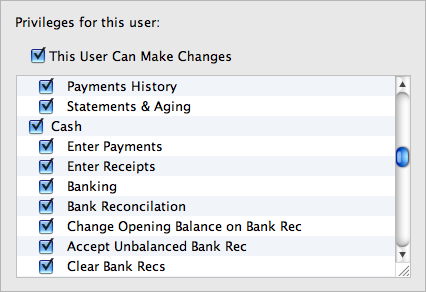 apply per-user access control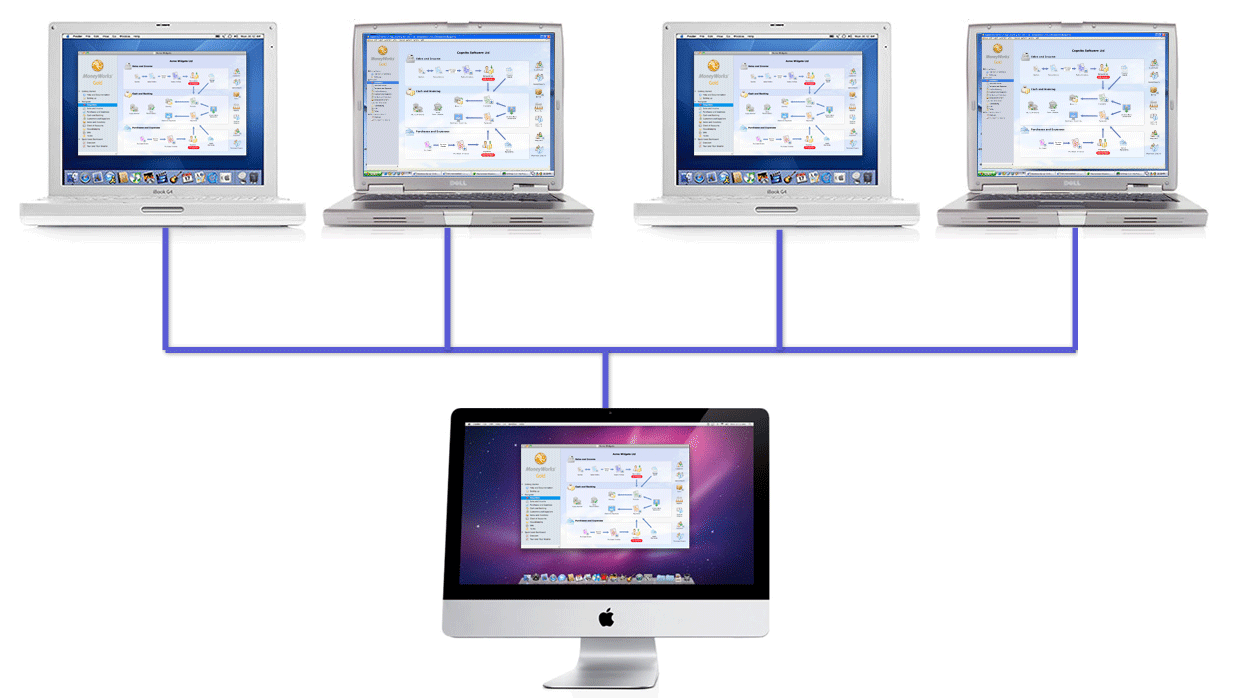 Mix Macs and Windows PCs on the same network
Multi-company server

Datacentre has all the same functionality as MoneyWorks Gold (MoneyWorks Gold is the network client), but with the convenience, scalability, and interoperability opportunities of server-based systems, including access from mobile devices. In addition Datacentre has highly optimised networking, making for extremely fast remote connections without the need for expensive thin client solutions.
Share accounts documents for multiple companies simultaneously.
Concurrent client licensing: install MoneyWorks Gold client on as many workstations as you like - only active connections are counted.
Server comes standard with 3 concurrent client licenses. Easily add more. Support several dozen users with ease..
Server is always available: this makes remote access possible over the internet.
Accelerated server-side reporting. Reports can be run on the server making them up to 500 times faster for remote clients connected over an internet link.
Regular automatic backups and archives.
Partition users: allow users logging into the server to see only a subset of documents.
Console application for server management.
Expanded integration options: some third party solutions require a MoneyWorks Datacentre Server.
REST APIs allow access from remote devices (tablets and smart phones), and also web apps and websites.
Which multi-user product should I choose?
Although MoneyWorks Gold server can support a dozen or more clients, we recommend MoneyWorks Datacentre for more than 2 or 3 users.
If you want to access your accounts from a distant office, or from a mobile device, you will need Datacentre.
If you need any of the specific functionality offered by Datacentre Server then the choice is obvious.
You can easily and cost-effectively upgrade from a MoneyWorks Gold network to the power and convenience of MoneyWorks Datacentre Server at any time.
Note for accountants
MoneyWorks Datacentre Server 7 offers multi-user access to MoneyWorks Cashbook and MoneyWorks Express files as well. You can prepare client end-of-year accounts using customers' own data files with no tedious conversion procedures.
---
Scripting

MoneyWorks Gold comes complete with a powerful built-in scripting system (mwScript), allowing you to extend functionality, automate repetitive tasks and refine how MoneyWorks interacts with the user. You can implement enhanced data checking, extend the importing capabilities for unstructured files, interrogate websites for other information, even talk to MoneyWorks files stored on remote Datacentres.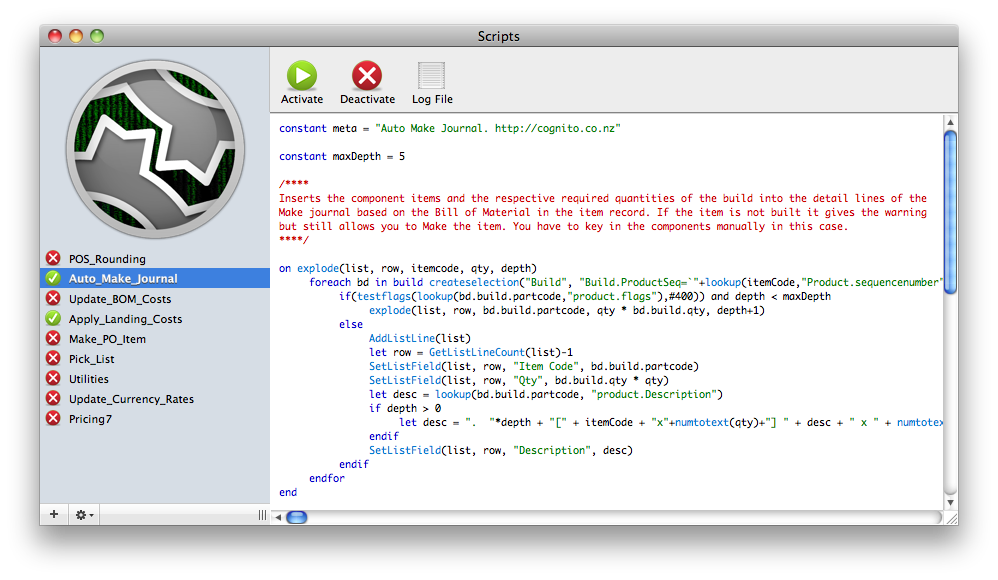 The scripting editor allows the easy creation of cross-platform scripts.
Automate repetitive tasks by adding new menu commands and/or buttons on lists and entry windows.
Communicate with external websites to look up supplier pricing, extract exchange rates, get latest stock market quotes, etc.
Add special functionality, such as customised price books, special discount rules, automatic transaction creation.
Provide enhanced data integrity checks and workflow management, such as custom purchase order approval.
Scripting editor is colour-coded for live syntax checking.
mwScripts have access to MoneyWorks tables and functions.
Event driven for easy integration with user interface.
Access external files & web sites.
Access to special user tables for storing persistent data within MoneyWorks.
mwScripts can be easily imported and exported, for quick deployment.
---
Interoperability
Full access to your data
Some business systems lock your data up and make it hard to access or achieve interoperability with other systems your business relies on. "Cloud"-based systems may not give you access to your raw data at all (a real problem if the provider goes out of business).
MoneyWorks makes free access to your data a priority. Extensive data export and import facilities are at your disposal.
Import/Export
[All MoneyWorks products]
Configurable importing for transactions, names, items, accounts, jobs, timesheets etc (as appropriate for product; in Cashbook this is via Copy/Paste)
Export from all main database lists (Copy/Paste in Cashbook)
External Scripting
[All MoneyWorks products]
Automate data transfer using Applescript (Mac) or Visual Basic (et al) via COM (Windows)
Attachable Applescripts or VBS scripts for extended data validation (MoneyWorks calls your script in response to user interface events such as tabbing out of a field)
Enhanced integration

FileMaker Plugin
FileMaker Go (to Datacentre)
Cocoa Scripting Bridge (Mac)
Mobile device and internet access

REST APIs enable direct communication with your MoneyWorks accounts from other devices across the internet using standard protocols.
Authorised Websites can directly interrogate and update MoneyWorks data.
Server access

Command line access allows integration with backend services using tools such as PHP or Perl
Open source Perl module available.